MFT Server includes MFT Server Web Client, a browser based file transfer client for performing file transfer sessions with MFT Server.
MFT Server Web Client has all the common functions of a file transfer client without having to go through the trouble and expense of installing file transfer client software on your end-users computers. Additionally, since MFT Server Web Client communicates via HTTP/S, you can easily give your users secure file transfer capabilities without having to deal with complex customer firewall issues often associated with FTP/SFTP protocols.
Step 1. - Enable HTTP/S services
Go to the Settings > Web node . Here you will find a set of options for enabling HTTP/S services.
Figure 19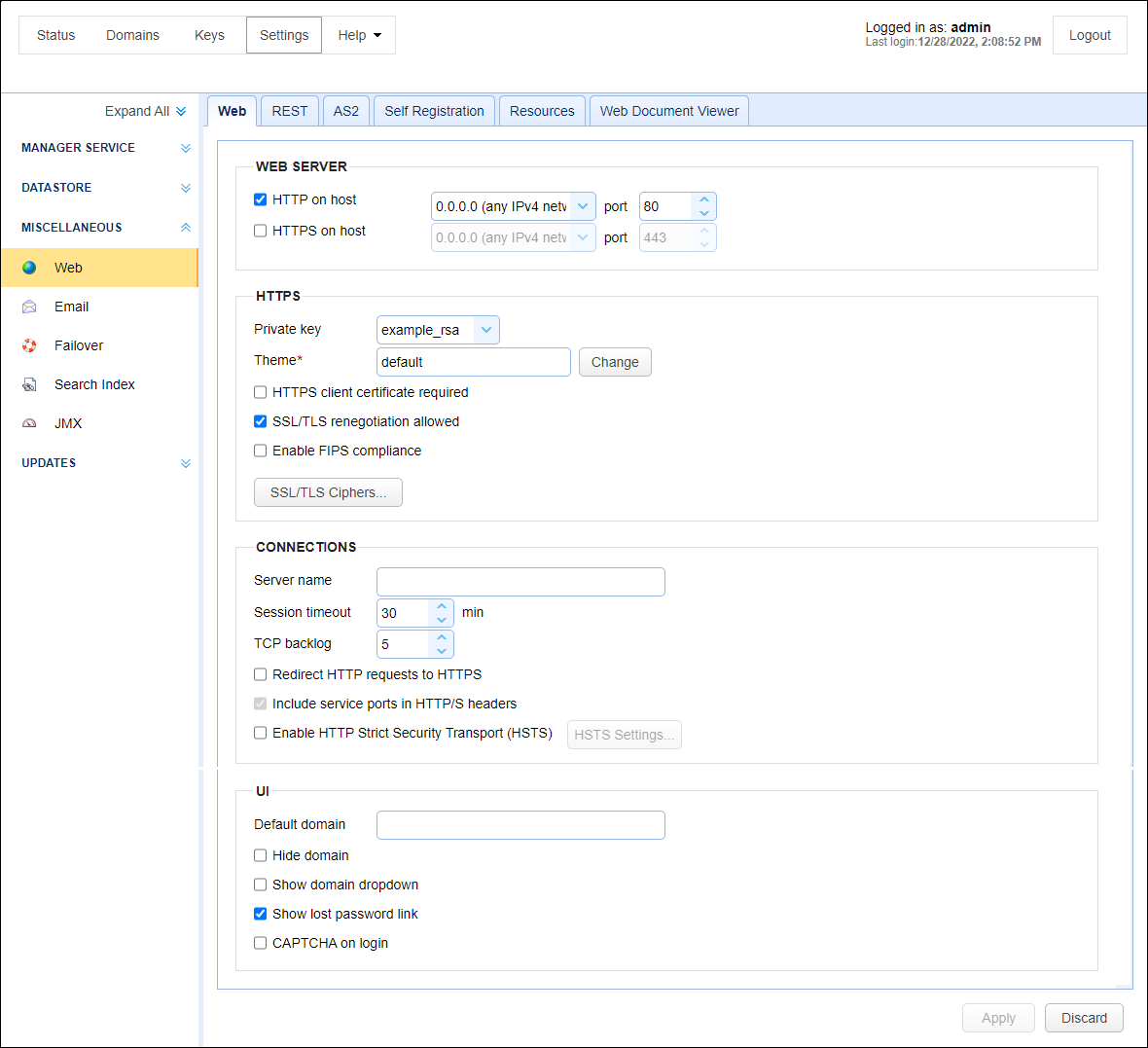 Web Server
HTTP on host - The host and port you want to enable HTTP service on. This will also be used for client REST services.
HTTPS on host - The host and port you want to enable HTTPS service on. This will also be used for client REST services.
HTTPS
Private key - The SSL encryption key to be used for HTTPS services.
Theme - The color theme used for the buttons, menus, tabs, and other GUI elements.
HTTPS client certificate required - Requires that client browser successfully identify itself with a client certificate found in "Client keys" section of Key Manager.
SSL/TLS negotiation allowed - If enabled clients will be allowed to renegotiate SSL/TLS sessions.
Enable FIPS compliance - Enables FIPS compliance for HTTPS connections (See FIPS in Compliance settings).
SSL/TLS Ciphers - List of enabled SSL/TLS ciphers for HTTPS communications.
Connections
Server name - Optional value if entered will replace any HTTP headers that contain hostname data with specified hostname. This is useful in cases where server operates behind a NAT enabled firewall and you do not want to leak internal hostname or IP address information.
Session timeout - The amount of time after which to close inactive HTTP/S sessions.
Redirect HTTP requests to HTTPS - Redirect incoming HTTP requests to secure HTTPS service.
Include service ports in HTTP/S headers - If checked (default), service ports will be included in HTTP/S headers.
Enable HTTP Strict Security Transport (HSTS) - If enabled, HSTS will be enabled.
UI
User interface - Sets what user interface options are available from login page.
Default domain - Defaults domain field to specified value when logging in via web interface.
Hide domain - Hides domain field when logging in via web interface. If this option is checked then a default domain MUST be provided.
Show domain dropdown - If enabled a drop-down of all available domains is displayed for the Domain field when logging in via the web interface, otherwise a text field is displayed requiring user to type in domain.
Show lost password link - If enabled the Lost password link will be displayed on web interface login page allowing user to reset their password via email.
CAPTCHA on login - If checked, user will be required to enter a CAPTCHA on login.
See also
Obtaining a trusted certificate
Step 2. - Add HTTP/S services to your Domain.
For the desired domain go to the Services module and click the Add button. When prompted set the Protocol to HTTP/S and select the desired protocols you wish to accept file transfers for.
Figure 33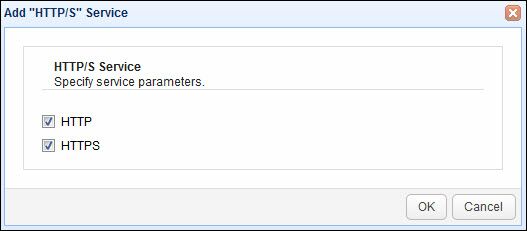 See also
Obtaining a trusted certificate